ECB policymakers are starting to consider a slower pace of interest-rate hikes after a likely 50 basis-point step in February, sources say as reported by Bloomberg.
"The rapid energy-driven decline in headline inflation is giving the ECB a bit of breathing space, but policymakers will remain focused on persistent underlying pressures for now. If, as we expect, the core reading starts to ease from the end of the first quarter, this could be enough for the ECB to slow the pace of hikes to 25 basis points in March, possibly extending the cycle into the second quarter," Bloomberg reported.
However, President Christine Lagarde indicated in December, a higher pace of tightening than indicated above, laying down the foundations for a 50 basis-point step in February. Nevertheless,  the prospect of a smaller 25-point increase at the following meeting in March now has traction in the markets, despite officials saying today that no decisions have been taken, and that policymakers may still deliver the half-point move for the March meeting that Lagarde penciled in on Dec. 15.
The ECB spokesperson declined to comment on future action by the Governing Council.
EUR/USD update
Meanwhile, the euro is under pressure on Tuesday, falling from a high of 1.0869 to a fresh low of 1.0786 in a move signified in prior analysis as follows: 
EUR/USD Price Analysis: Daily W-formation could be playing out, eyes on break of 1.0820/00
The W-pattern was regarded as a reversion formation and the price was expected to dip into the bullish impulse for a restest for the prior structure if not all the way into the neckline: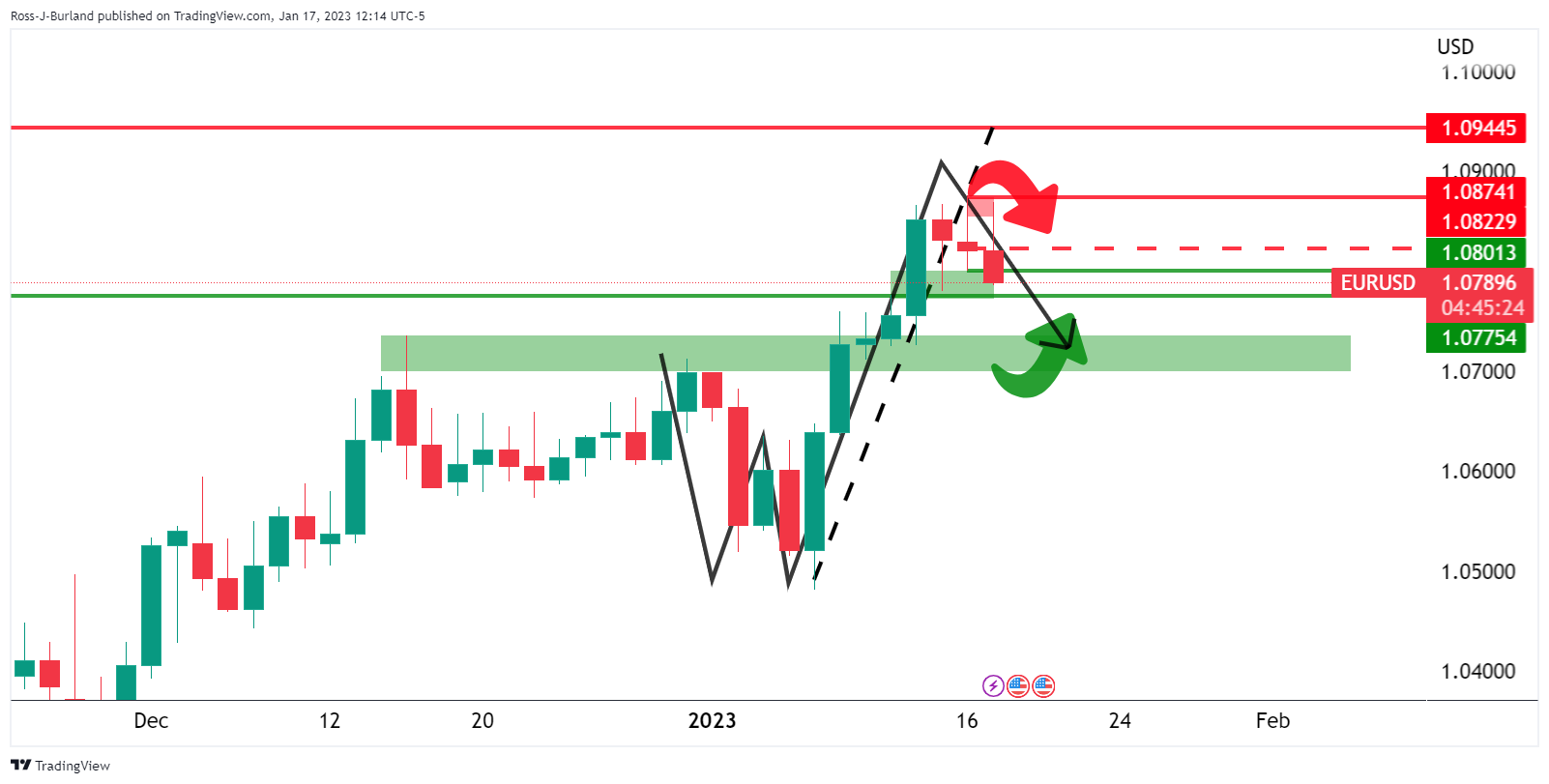 The euro is pressured and in pursuit of the downside targets while money markets ease tightening wagers further out, putting odds on a similarly sized 25bp increase in March at around 70%.
Weaker-than-expected inflation in the euro area, a drop in natural gas prices and the prospect of gentler tightening by the US Federal Reserve have brought some comfort to policymakers at the ECB.