S&P 500, Earnings, USDJPY, BOJ, USDCNH and GDP Talking Points:
Despite the discomfort behind capital markets around whether the S&P 500 has broken its technical ceiling or not, there was no material traction found Tuesday

In the absence of high-profile, macroeconomic US data; event risk like the Chinese

GDP

, Goldman earnings and upcoming BOJ decision prevail volatility
Recommended by John Kicklighter
Get Your Free Top Trading Opportunities Forecast
The US markets were back online this past session, but the significant top off in liquidity for the global markets wouldn't resolve the open question as to whether we have committed to a speculative recovery or a mere bounce. On a technical basis, the benchmark S&P 500 (my preferred, imperfect representative for 'risk trends') left off the previous week on the cusp of a technical break. There were arguments made in favor of the break and just as many that said conviction was still absent. For those looking for an immediate resolution between the bulls and the bears to start off the holiday-shortened US week, hopes were dashed and anxiety is likely taking its place. From the charts, three remains the overhead formed around the 38.2 percent Fib of the August 16th to October 22nd bear wave, the 38.2 percent Fib of the full 2022 range and once again the psychologically influential 4,000-level. Alternatively, we are still above the 200-day moving average and haven't relented from the preceding week's charge. That said, volume of 2.44 billion was uninspired, the S&P 500's range on the day was the smallest since the Friday after Thanksgiving (November 25th) and VIX is still below 20 despite its bounce. Traders – versus investors – are looking for resolution, but there isn't a particularly clear candidate for restoring conviction.
Chart of the S&P 500 with Volume, 50 and 200-Day SMAs and 'Wicks' (Daily)
Chart Created on Tradingview Platform
After the New Year close Friday of last week, I issued a poll looking to get traders' view on whether risk appetite had fully recovered to a point of sustained lift. However, asking that ambiguous and big picture question is usually difficult for many to appreciate; so I boiled it down to my favorite convince measure for sentiment and added technical context around which participants could form an opinion. According to the results, 42 percent of those that voted believed the S&P 500 would reverse back below 3,900 after overtaking its 200-day moving average; 34 percent expected a continued climb above 4,000; and 24 percent expected chop this week. It is a fairly even mix of expectations everything considered. Personally, I am looking for a tangible and capable fundamental current to direct the speculative masses. There are some notable events from different regions or through a less conspicuous lens, but nothing readily sticks out to me as capable. That means that either some surprises will come to take up the reins or speculation will build through a patchwork of motivations. Neither course is particularly appealing to me for assessing probabilities. So, I will keep a close tab and balanced perspective on progress as it unfolds.
Poll Asking Participants Whether S&P 500 Would Break, Reverse or Chop Moving Forward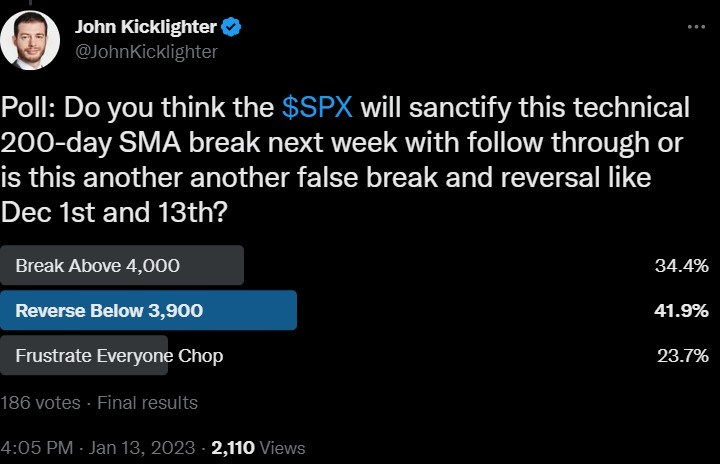 Poll from Twitter.com, @JohnKicklighter
While it is always worth keeping track of the 'weather patterns' for the entire financial system, it is also important to keep tabs on the regional eddies of volatility that arise in markets charged by localized event risk. There was some remarkable activity to be registered in some other areas of the global markets. For some benchmarks like the German DAX 40, a fifth consecutive day's advance to multi-month highs was likely encouraged by the Chancellor stating he is convinced the country would avoid recession and the added support of the Eurozone and German ZEW economic sentiment surveys. For the likes of the FTSE 100 which edged slightly lower, the unease over the proximity to record highs is probably outstripping the influence of data points like the UK employment data we just registered. I will be looking to the UK inflation ahead for some possible FTSE and Pound guidance, the Canadian factory inflation for USDCAD pressure and the run of lower level US data points (retail sales, PPI, industrial production, NAHB) for errant Dollar potential. Yet this isn't the explosive type of mix.
Top Global Macro Economic Event Risk for Past and Next 24 Hours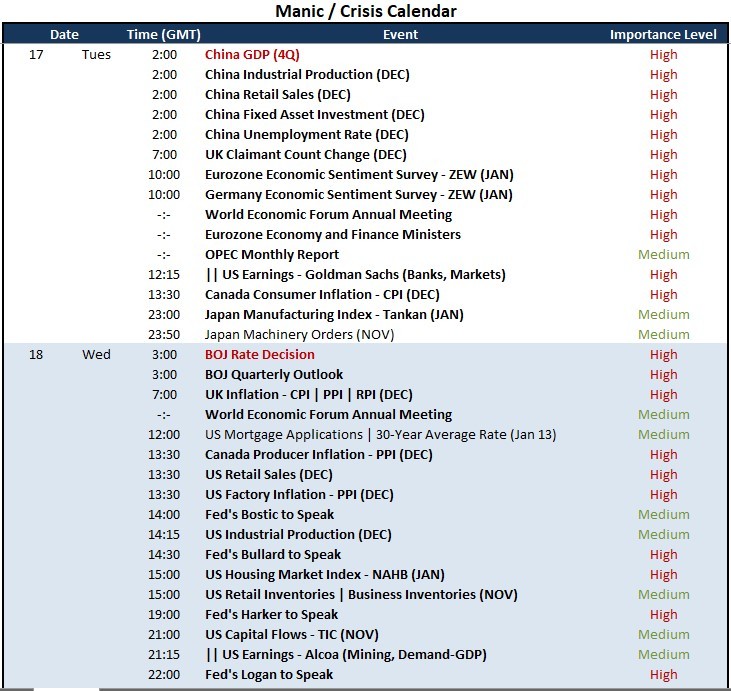 Calendar Created by John Kicklighter
For more motivated market development this past session, the Chinese 1Q GDP reading was of great consequence. The 2.9 percent expansion through end of last year as better than was expected, but it was a big step down from the 3.9 percent clip before. While this may seem an impressive performance for a major developed world economy, it is anything but for this economy dependent upon constant expansion. The uncertainties around Covid and the announcement of the first population decrease in decades is also unflattering. Notably, the Shanghai composite took the news in stride, but that steady slide from USDCNH was tentatively turned.
Chart of USDCNH with 200-Day SMA (Daily)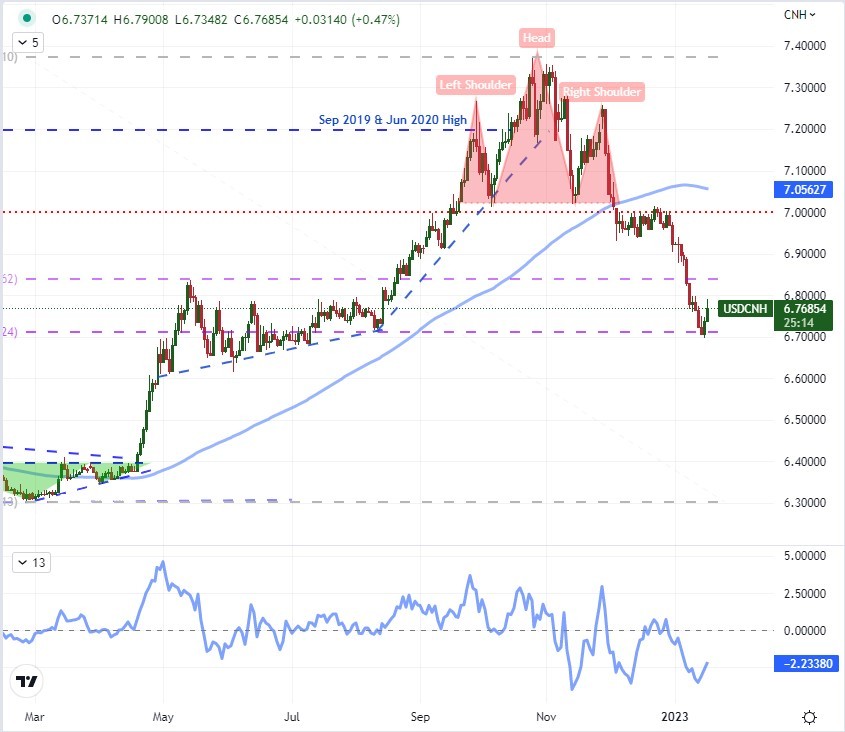 Chart Created on Tradingview Platform
Looking out over the next 24 hours, the top scheduled event risk for pure volatility potential would have to be the Bank of Japan (BOJ) rate decision. The central bank surprised the markets by slightly tightening its policy mix at last month's meeting – when much of the market was already in holiday mode. This has further charged the expected volatility behind Yen pairs like USDJPY. In fact, overnight implied volatility for this pair is the highest since July 2016 and is the third highest its been in two decades. It is very likely that volatility in the very short-term deflates dramatically after this event, but don't assume it comes with direction.
Chart of USDJPY Overlaid with Overnight and 1-Week Implied Volatility (Daily)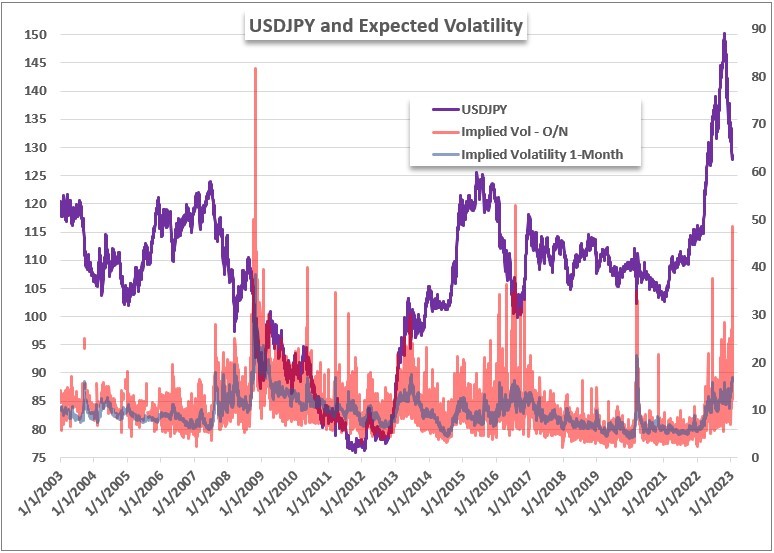 Chart Created by John Kicklighter with Data from Bloomberg
Recommended by John Kicklighter
Trading Forex News: The Strategy